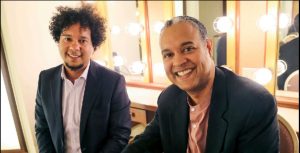 The brothers in Marcia Jarmel's and Ken Schneider's Los Hermanos / The Brothers are Ilmar and Aldo López-Gavilán. They were born in Havana in the 1970s to a long line of musical prodigies, and have well extended that line.
Although the brothers took different physical paths, they have always been close, and entertained a dream of performing together in the United States. Los Hermanos / The Brothers tells this uplifting story of how the brothers wove their way through the miasma of United States restrictions of travel to Cuba, and were able to realize their dream to play together in the United States.
As I watched this story unfold I became struck with the great joy the López-Gavilán family was sharing, as well as the film's soundtrack of beautiful upbeat music peppered throughout—all performed by the brothers.
I cannot overstate the pleasure and excitement this film provides. It is a must-see—including children and teenagers.
Although part of a tightly knit family, the brothers took different paths. Ilmar, the violinist, who, at the age of 14, was sent to the Soviet Union to study the violin, never lived again in Cuba. Ilmar has settled down in Fort Lee, New Jersey, just across from New York City, separated by the infamous Washington Bridge.
Aldo, a pianist, composer and teacher remained in Havana with his lively family. He was mentored by Cuba's classical and jazz pianists. Aldo's wife Daiana Garcia is a conductor, and yes, she has conducted her husband.
We are also introduced to the brothers' father Guido, a conductor prominent in Cuba's flourishing music world. He headed Cuba's Ministry of Music for a period of time, and helped found the music department of Cuba's national school of the arts.
The brothers' mother, Teresita Junco, sadly passed. She had a fruitful artistic and teaching career at national and international levels. Teresita was a tenured professor of the piano at the Higher Institute of Art, chaired the National Piano Commission, was a member of the Scientific Methodological Council, and a professor at The University of Arts of Cuba, and the Amadeo Roldán Conservatory.
Screenings may be found virtually throughout California via the Mill Valley Film Festival, 10/8-10/18. Here is the LINK to tickets for the festival. Suggested watch time is October 10th, 7 pm PST, followed by a live conversation with the filmmakers and local Latin Jazz legend, John Santos at 8:30 pm. RSVP HERE for the Live Zoom event.
For more information about the film, you can see the trailer HERE
(Pictured: left to right, Aldo – Ilmar)