Llyn Foulkes is an LA-based carpenter, musician, composer, singer, yodeler….and artist.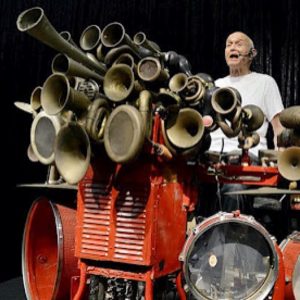 Co-produced and co-directed by first-time feature directors Tamar Halpern and Chris Quilty, Llyn Foulkes One Man Band (the film's full title) follows the multi-talented, self-absorbed gentleman through seven years of ups and downs. His life and work are driven, in part, by a rebellious nature.
The 'One Man Band' reference in the title is both literal and metaphorical. He is a multi-media artist who also writes, sings, and plays songs on his one-man-band for small audiences. The film is peppered with clips of those performances. (He seems to exclusively utilize the 2/4 time signature.) Foulkes' one-man-band serves both as a music-maker as well as an art installation piece of his own creation which no one—including his family—may touch. One of his dreams is that upon his death this installation ends up in the Smithsonian Institute. (I guess its movers will have the honor of touching the 'band.')
In addition to plenty of scenes of Foulkes working and pontificating, we hear from his former wives and his children, a variety of art critics, and an avid collector—the late and legendary Dennis Hopper. In just a short 88 minutes our filmmakers capture Foulkes' character, and his ambivalent relationship with the art world and his art.
Llyn Foulkes One Man Band is distributed by Kino Lorber.