When we watch episodic television shows – anything from local news programs through commercial-free 90 minute episodes of European series – the characters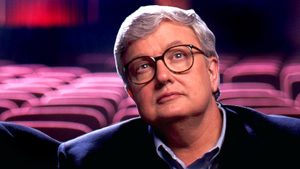 become part of our own extended families. The more entertaining and impactful the show, the more we watch it, the deeper our relationship to those characters. When ground-breaking "Hill Street Blues" completed its run I felt both saddened and relieved, I was so connected to the characters and their lives.
I did not feel relieved, however, when the weekly movie review show featuring critics Gene Siskel and Roger Ebert ended by virtue of Siskel's cancer, nor when Ebert succumbed to same. Although I'd been viewing movies for almost four decades, the way I view and understand films was deeply altered and enriched by the few drops of perspective and understanding I received from each episode of their show, and, finally, from Roger's show. The duo are like The Beatles. I doubt there will ever be the media equivalent of their impact on our movie-going behavior and experience.
Their departure from my world left me with deep sadness – and, of course, deep appreciation for how much I learned from them, and how much I was entertained by their verbal wrestling matches.
A very small fish in a very big pond, I struggled and waited many months to secure a screener for review of this documentary of Roger Ebert's life by acclaimed director Steve James. I knew this film is a must-see, and having seen it, I find 'must-see' to be an understatement.
James' Life itself is a deeply moving, well-deserved tribute to the person of Roger Ebert, to his work, and his legacy. Its production was inspired, in part, by Ebert's memoire, Life Itself. James tells Ebert's life story from his humble home life to media legend. The film includes the last months of Ebert's life as he struggled with cancer and the results of medical interventions.
Life itself opens with a statement by Ebert that is foundational to understanding his relationship to the cinematic form of storytelling:
"We all are born with a certain package. We are who we are—where we were born, who we were born as, how we were raised. We're kind of stuck inside that person, and the purpose of civilization and growth is to be able to reach out and empathize a little bit with other people. And, for me the movies are like a machine that generates empathy. It lets you understand a little bit more about different hopes, aspirations, dreams and fears. It helps us to identify with the people who are sharing this dream with us."
A simple statement that identifies the most noble impact film makes on those who chose to see the full range of storytelling filmmakers provide. The statement offers a partial understanding of Ebert's deep motivation to support filmmakers and their films.
(Having witnessed the ongoing destruction of our ecosphere via, in part, by viewing documentary films, I would simply expand my understanding of 'empathy' in the above quote to include the kingdoms of flora and fauna.)
Steve James has done a masterful job of helping us to understand Roger Ebert's hopes, aspirations, and dreams—and to see how well those aspirations were realized.
http://www.ebertmovie.com/
http://www.rogerebert.com/life-itself