Life According to Sam is an utterly spectacular life-affirming documentary about the 'aging disease' called progeria and the life of a child, Sam Berns, who was born with this genetic anomaly.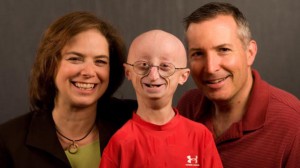 Produced by the Academy Award- and Emmy Award-winning team of Andrea Nix Fine and Sean Fine, and cablecast by HBO, the film tells two stories – Sam's story from birth into early adolescence, and the story of his parents, Dr. Leslie Gordon and Dr. Scott Berns, both physicians, who initiated the first clinical trial of the first drug approved to treat progeria.
'Indomitable' is too small a word to describe Sam Bern's spirit which enabled him to fully live every moment of his inspiring life.
At any one time on our planet there are approximately 250 children born dying from progeria. The disease begins to disfigure the afflicted in babyhood, and the average age of death is 13 years old. With a population that small there was virtually no possibility of research funds being spent to find the cause and a treatment – let alone a cure.
Drs. Gordon and Berns changed all that – through an agonizing, unnecessarily slow federally-mandated process.
Sam and his parents are heroes in the true, the literal sense – as are the filmmakers who seemingly became part of the family and part of this years-long story.
This is as much a must-see documentary as I can conceive. Seeing the film just once, Sam Berns lives in my heart.
One more thing: Drs. Berns and Gordon founded the Progeria Research Foundation.