Prolific filmmaker Doug Pray's Levitated Mass tells the story of the moving of a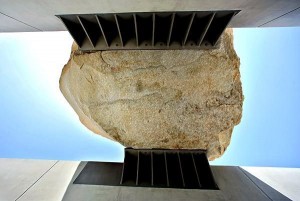 rock from one place to another. The rock in question weighs 340 tons. It was moved from a southern California above-ground mining operation to the Los Angeles Museum of Art.
The impetus for this translocation came from Michael Heizer who does 'land art.' (Please see his website — link below — to learn what 'land art' is.) He is credited as the artist of the rock's installation at the museum.
In 1968, Heizer conceived a large piece of earth suspended so that people could walk under it. A mine operator who'd been informed of the need for such a rock found just the thing Heizer specified. After much discussion amongst hundreds of people the rock was moved in 2012, from the mine to the museum, by a 294-foot-long, 206-wheeled trailer over a period of ten days, through 22 cities. The service fee was $10 million.
It was positioned outside the museum, above 'negative space' – that is, a hole – long enough and wide enough for people to walk underneath it.
That's it. That's the story. I loved it! Can't wait for the commercial Blu-ray disc so I can see much more of this journey the completion of which would make Sisyphus massively envious.
http://www.levitatedmassthefilm.com/
http://doublenegative.tarasen.net/