"Everyone has aspirations. For me, freedom is more precious than anything else." Sun Yi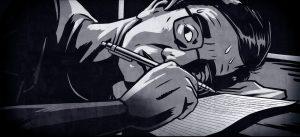 Several years ago, Julie Keith purchased a Halloween decoration—a plastic tombstone—from Kmart. She did not open the box for two and a-half years. When she did, she discovered a hand-written letter attached to its back.
That discovery is the inciting event for Letter from Masanjia about human rights violations in China. The letter was written in a Chinese labor camp called Masanjia. Sun Yi was one of countless innocent victims of the Chinese government's human rights restrictions. For his refusal to comply with the government's thought police, he was tortured for a solid year, and suffered many other repressive consquences.
When Keith discovered the letter, she went public with it. The result was world-wide pressure on the Chinese government to shut down its forced labor camps, which they did.
Yet, there is much more to Yi's story.
At just one hour and fifteen minutes long, Letter from Masanjia is one of the most powerful, epic documentaries I have seen to date.