On May 13, 1985, the political and law enforcement leadership of Philadelphia, Pennsylvania burned down 65 homes in a neighborhood of tightly-spaced row houses. Six adults and five children died. National headlines, of course, were made. The nation's collective jaw dropped.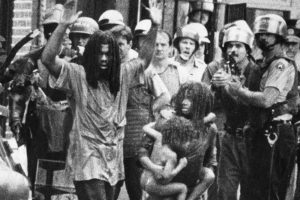 Those who see Jason Osder's Let the Fire Burn will also experience jaw-dropping or re-jaw-dropping.
Using news clips and video coverage of the investigation, Osder tells the story of a large city dealing with a very small cult called "MOVE", led by an African-American man with a name as self-styled as his group's politics and life-style, John Africa.
MOVE caused concerns and trouble for its neighbors and beyond. It positioned itself in an adversarial relationship with law enforcement—which was easy to do as law enforcement did the same.
The last straw was a poorly planned siege of MOVE's small home. After multiple failed attempts to remove MOVE, the city dropped a military grade C-4 bomb on their home. It started a fire, the fire department did not put it out, and a large portion of that neighborhood of lower-middle-class homes burned to the ground.
Osder includes a few screens of text, but no narration. The skillfully edited video coverage tells the story. The Zeitgesit Films DVD includes special features including a lengthy, substantive Q&A with the filmmaker. I'm always grateful when a documentary film DVD includes optional subtitles as Let the Fire Burn does.