The tragedies and triumphs regarding the loss and rescue of pets during natural or human-made disasters receive little to no media coverage.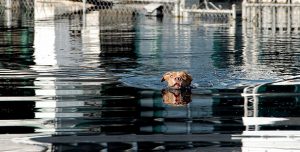 Written, produced, and directed by Kim Walsh-Borgan, Left Behind Without A Choice introduces the worlds of pet recovery and care during disasters, attempts to reunite pets with their owners, or to find foster or forever homes for the pets.
The inciting incident: Katrina—one of countless examples of the American people's carelessness for each other.
Hopefully, it was a learning experience.
Well,… it was—at least as regards our treatment of pets in disasters. Victims were forced to leave their loved ones to Katrina's destruction. The horrors created led to the passing of The Pets Act which requires states seeking FEMA funding to accommodate pets and service animals during and subsequent to disasters.
Walsh-Borgan interviewed a number of Katrina volunteers, leaders of volunteer organizations, and an attorney for her film about the care-giving of animals during and after the Katrina disaster. She documents the dramatic altruistic response to Katrina's impact on the region's pet population—a response that, in addition to saving countless animals' lives, changed the lives of those who found themselves volunteering for the first time in animal care.
These stories are heart-warming and amazing, and the most dramatic of which is that of a highly-experienced veterinarian, 'Dr. Charlie,' describing in non-stop tears his meeting of a particular dog—one which, of course, adopted the vet.
My gratitude to all involved in producing this film!