Directed by Jean Carlomusto and released in 2015 by HBO,  Larry Kramer in Love and Anger profiles the single most powerful AIDS activist in the disease's tragic history. Kramer was there at the beginning, in New York City, when the plague struck.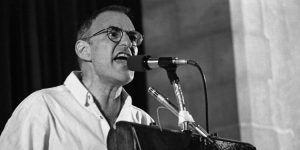 He has told his story with several books—and most famously with his play and acclaimed HBO film, The Normal Heart. Carlomusto's film outlines Kramer's life and paints a picture the resolution of which is his heroic fight for public attention to and action against the AIDS plague. Kramer's activism likely saved countless thousands of lives
It is nigh impossible for a narrative or documentary film about AIDS to not be powerful. Larry Kramer in Love and Anger is no exception. The film brings viewers closer to the pain, anger, and love that has motivated Kramer's decades-long activism.
Much about AIDS history has been well covered. No doubt, there is much more to be revealed. I take advantage of my brief reference to this must-see film to mention a story yet to be told—the origin of the virus.
Edward Hooper's The River: A Journey to the Source of HIV and AIDS has yet to be covered via high-profile documentary or narrative film. The book was de facto censored by the medical-industrial complex. Additionally, it's more than a thousand pages in length—a tough read, of course, yet I could not put it down until I read the book ver batim, cover-to-cover.
Don't take my word for it. Simply read the many 5 Star reviews on its Amazon site.
http://www.hbo.com/documentaries/larry-kramer-in-love-and-anger.html
http://www.aidsorigins.com/
http://www.amazon.com/River-Journey-Source-HIV-AIDS/dp/0316372617/