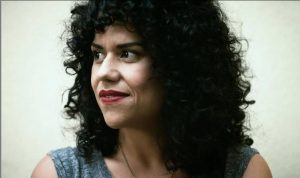 "I feel like once you've survived Maria, you can survive anything else that can happen in this country."
Hurricane Maria survivor
From Wikipedia: "Hurricane Maria was a deadly Category 5 hurricane that devastated Dominica, St Croix, and Puerto Rico in September 2017. It is regarded as the worst natural disaster in recorded history to affect those islands, and was also the deadliest Atlantic hurricane since Mitch in 1998. Total losses from the hurricane are estimated at upwards of $91.61 billion (2017 USD), mostly in Puerto Rico, ranking it as the third-costliest tropical cyclone on record."
Professor Cecilia Aldarondo's Landfall covers the people of Puerto Rico in the aftermath of Maria's landfall. The film also includes footage of non-resident American citizens exploiting the disaster—much like the carpetbaggers of the post-Civil War American south. Puerto Rico is 1,000 miles southeast of Miami, Florida.
Aldarondo's film does not contain narration. Instead she simply tells the story via beatific and demoralizing images of the island nation, as well as interviews of storm victims speaking of their losses, fears, and hopes. The nation's people suffer from internal corruption, governmental incompetence and carelessness, as well as exploitation of the country by the United States government and its people. The film also includes archival footage of Puerto Rico.
The film's absolutely perfect, haunting music is composed by Angélica Negrón.
Landfall is produced by Blackscrackle Films, and distributed by PBS and Field of Vision.
Film Festival Nominations and Winners
Nominee, Truer than Fiction Award, Film Independent Spirit Awards
Nominee, Cinema Eye Honors Spotlight Award
Grand Jury Award, Viewfinders Competition, DOC NYC Film Festival
Grand Jury Award for Best Documentary, Florida Film Festival
Best Feature Documentary, Guanajuato International Film Festival
Best Documentary, Milwaukee Film Festival
Best Documentary, Boston Latino Film Festival
Jury Honorable Mention, New Orleans Films Festival
_____________________________________________________
Trailer
(Pictured: Professor Cecilia Aldarondo, courtesy of 'Landfall')