Produced by a team of accomplished filmmakers, Kings of Pastry documents, for the first time, the Meilleurs Ouvriers de France (MOF) an every-four-years international competition of pastry chefs in Lyon, France.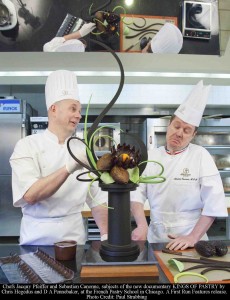 Although the word 'competition' is used, the chefs are not competing with each other. Instead, there are a group of judges who evaluate the chefs' performances; and all 'contestants' who perform up to their high standards are awarded the ultimate prestige of a red, white, and blue collar.
The film follows three of 16 chefs one of whom, Jacquy Pfeiffer, founder of The French Pastry School in Chicago, travels to Lyon for the competition.
The MOF is gruelling, an artificial situation demanding near-super human abilities.
Every aspect of the chefs' preparation and work is judged. The competition includes the creation of small and large pieces. They vary, of course, in size and qualities, but all are elaborate. There are at least two large pieces –sculptures of sugar and of chocolate. These pieces, by virtue of their size, are much more eleaborate and, especially, delicate. The competition requires the chefs to carry their completed pieces from one place to another. The pieces are so fragile that they may break during this transport; and when they do, we are told, that immediately disqualifies the examinee from the MOF. In addition to everything else the film has to teach, I learned that "humidity is the enemy of sugar."
Putting 16 people in any kind of pressure cooker makes for drama – high or low, depending on one's perspective. Imagine an artist given three days to make several paintings with a requirement that the paintings be of specific sizes, content, and media including oil, acrylic, water color, crayon, pencil, air brush, pen, and collage.
Given the strick requirements and high standards of the MOF competition as well as its quadriannual occurance, the filmmakers captured a tremendous amount of the aforementioned drama as well as the fascination of seeing chefs create what to me seemed like nothing less than works of art.