In 2003, eight tourists hiking the beautiful Columbian mountains became statistics when they joined the countless others who have been kidnapped. Among the eight was British television producer Mark Henderson. One tourist escaped. The rest were held captive for 3 months.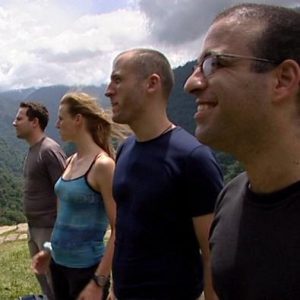 Nine months after his release Henderson received an email from 'Antonio,' one of the kidnappers. This was the beginning of five years of communications between the two which, in turn, led to a plan to meet at an undisclosed location.
Co-produced and co-directed by Henderson, My Kidnapper tells two stories – the kidnapping, and the reunion of four of the original eight victims with Antonio and his fiancée who also participated in the kidnapping.
We follow the four as they retrace their movements from the original point of capture, through various locations, to the point of their release – followed by a meeting with the two kidnappers. Along the way the travelers describe their original experience together with their current thoughts and feelings. Henderson incorporates a substantial amount of news reports and other footage from the time of the kidnapping.
From my tenderfoot's perspective, just the physical journey to revisit their life-threatening experience was harrowing enough – despite the helicopters, the military escort, the planning, the requisite equipment and supplies, and the accompanying film crew. Be that as it may, My Kidnapper movingly conveys the ineffable horrors of the kidnappings that obviously haunted the four travelers on their odyssey in reverse.
Henderson skillfully keeps the story focused on the personal. To attempt addressing the subject of kidnappings in Columbia would be to pull a thread unraveling a multitude of stories and conditions and nations each demanding their own documentary. Instead we experience a deeply personal narrative which acknowledges the seemingly bewildering complexities of our world and ourselves.
http://www.mykidnapper.com