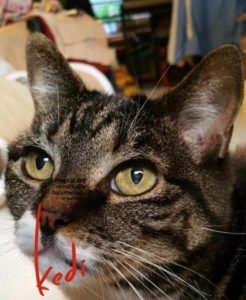 Ceyda Torun's Kedi explores the world of feral cats in Istanbul. According to one Istanbulian, Norwegian ships inadvertently deposited the felines there many years ago. There are now hundreds of thousands of cats roaming the metropolis.
Torun's focus is on the relationship between Istanbul's cats and homo sapiens. The filmmaker follows several Istanbulians as they speak about and relate with their kedis who are free to roam about, yet faithful to their chosen human. It is the cat who adopts—if not rescues—the human.
One gentleman is very clear that it was one particular cat who rescued and healed him from his 2002 nervous breakdown. He has been devoted to caring for several groups of cats since. Some neighborhoods keep a community-based running tab at the vet, as well as public boxes for anonymous contributions—all to cover the costs of feline health care.
Torun also provides drones-eye views of Istanbul. It's no surprise that development in the city is reducing the beloved cat population's access to feral-friendly land. Barring a massive calamity, though, the passionate love the people of Istanbul have for their felines will protect their loved ones in perpetuity.