K2: Siren of the Himalayas tells two stories of K2. One is about a 2009 team attempting to ascend what is regarded as the most dangerous mountain to ascend to the summit.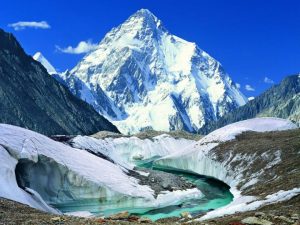 In addition to pursuing their avocation, this group is also celebrating and honoring the hundredth anniversary of the first expedition to attempt the K2 summit lead by the Duke of Abruzzi. This is the film's second story, and it is told with remarkable stills and some film footage. A voice-over actor reads from a journal written by a member of the expedition. By the end of the film's 75 minutes, the viewer has seen two films.
This was my second time to cinematically ascend K2. The first was when I viewed The Summit which chronicles the 2008 expedition in which 11 climbers died. One climber from our 2009 film speaks to camera as he sits on the mountain, at a make shift memorial of metal plaques to the many who have lost their lives traversing this mountain.
Director Dave Ohlson's cinematography, like the mountain, is breathtaking. If only the disc I watched was a Blu-ray or 4K!
My emotional response to these two films is one of awe and wonderment – at the beauty of our world, at the people who take in this beauty in person, and those who choose to film these people.
http://k2siren.com/