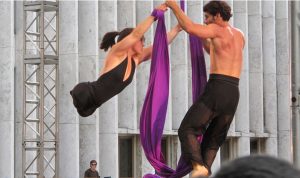 Invitation to Dance tells two parallel stories: A biography of disability rights activist Simi Linton and a history of the disability rights movement over the last 4 decades. As Linton became active in this movement she discovered a unique focus on dance—and became known as 'the instigator of dance' in her national community.
The film honors its title well, there are many scenes of dancing in various contexts including professional. We are treated to dances produced by AXIS Dance Company.
Because of the many successes of the disability rights movement, we are more aware of those we refer to as 'disabled.' However much we may think we have adjusted our world to provide rights and access, there is much more to learn, to incorporate in our relationship with this community.
I was struck with several street scenes of disabled people practicing non-violent civil disobedience to bring attention to and further their attainment of rights. I'd watched these scenes countless times in television coverage of anti-war and civil rights causes, but never imagined this particular struggle.
This is a consciousness raising film. I now know more awareness is needed, more work to be done in securing full civil rights for the disabled.
Invitation to Dance is produced and directed by Christian von Tippelskirch and Simi Linton, and distributed by Kino Lorber.