With InRealLife accomplished filmmaker Beeban Kidron has made a powerful documentary highlighting the dark side of the confluence of the internet, children, and portable digital devices. She interviews teenagers about their use of the internet, and hears from authorities about the nature of this global network. Her journey of discovery takes her to Silicon Valley, and network hub points around the world.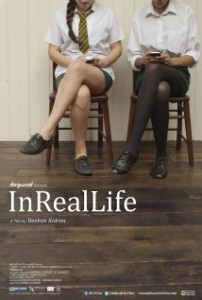 Kidron expresses deep concern about the dehumanizing impact of a 24-hour cyber life. The stories told by these children are equally jaw-dropping and heart-breaking. She makes a compelling argument that our concerns about internet addiction should be as serious as those we have for substance abuse and other self-destructive behaviors.
What do we do about the damaging effects of this unprecedented, ubiquitous technology? That is the question.
InRealLife made such a deep impact on me I was surprised that this is the first time I heard of the film. Thanks to First Run Features, it's receiving much-needed exposure in the United States.
http://inreallifefilm.com/