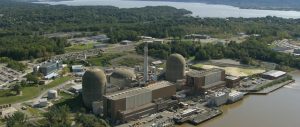 Written and directed by veteran filmmaker Ivy Meeropol, Indian Point is another look at our use of nuclear energy to power our electrical grids. She follows the antiquated journalistic dictum of giving voice to both sides of an issue.
Indian Point is an aging nuclear facility planted on the Hudson River, 35 miles from New York City. It is preparing for its re-licensing, and the usual pro- and con-forces are out yet again making their well-worn arguments. Fukushima, however, has super-charged the conflict.
Meeropol brings us deep into the Indian Point facility. With slow pans she effects the kind of ominous portent seen at the beginning of a disaster movie. Subtext aside, like most environmental issues, those who already have clear positions on nuclear energy will not be moved. Dogma and talking points reign. A third position emerges, though.
The film reveals our nuclear plants are aging, in need of upgrading or total replacement. The current Nuclear Regulatory Commission's work is not in the public's interest, as usual, but in the industry's.
Nuclear energy is dangerous. Our cavalier treatment of it only heightens its danger. But, if we invest a few billion or trillion, we'll be a little safer. For unknown reasons, one danger does not appear in Meeropol's film. Terrorism.
By film's end, even those who champion nuclear energy may take pause for our massive acts of omission in protecting our environment and our health. The above-mentioned third position requires reformation of our nuclear power regulation policies and procedures as well as a massive re-investment of funds. Those who are entrenched in their anti-nuclear positions, like yours truly, will not be moved by any position other than eliminating our use of nuclear energy to power our lives.
Our news media does not give appropriate coverage of nuclear issues—to make an understatement. No matter your position, Indian Point is your opportunity to consider an environmental issue that is virtually censored.
Over fifty million people live within a 50 mile radius of Indian Point.
Surviving the censor's knife, Indian Point premiered at 2015's Tribeca Film Festival. It is produced by Motto Pictures, and distributed by First Run Features.