Nearing the end of his life, in his late 80s, Saul Leiter is gracefully suffering a man with a video camera following him around his home and in the streets, asking annoying questions.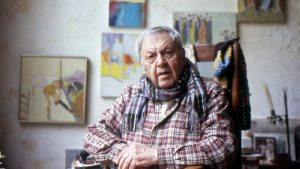 Wearing baggy clothes, and laughing frequently, the legendary fine art photographer indulges his interlocutor with thoughts and feelings of himself, photography, people, and his lost love, Soames Bantry, who beat him to the punch.
Leiter is clearly ambivalent – if not confused – about his worth, success and stature in the art world. Perhaps he has a control issue because whatever he thinks and feels about his work and those who regard it, there are Leiter collections in at least 14 museums throughout the United States and Europe.
And, of course, there is "In No Great Hurry" which introduces a prolific, passionate artist who has made an immeasurable contribution to the art of photography.
Director Tomas Leach has painted an affectionate, touching portrait of the artist as an old man. I recommend viewers see both the film and the additional interviews included in the Zeitgeist Films DVD. I consider those additional interviews to be part of the movie.
Saul Leiter passed away on November 26, 2013, at his home in New York. He was 89.
http://watch.innogreathurry.com/