Written and directed by Alain Margot, "I Am Femen" introduces the work of feminist activist group, Femen, which arose out of Ukraine in 2008.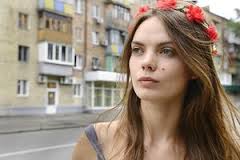 Margot follows founders Anna Hutsol, Oksana Shachko, and Alexandra Shevchenko; and covers several of Femen's protests which include bare-chested women—a tactic called 'sextremism.'
The film's dual story-arc includes both the increasing amount of trouble members create for themselves as they persist with protests, as well as the growing attention and support the organization is receiving.
Hutsol is a fascinating character. In addition to her co-founder status, she's a craftswoman and utilizes those talents in making various aspects of hair, body-painting and related accoutrement for their protests. She also enjoys painting religious iconography.
Having seen this film I happily state, I am Femen!
"I Am Femen" is distributed in North America by First Run Features.
http://www.femenblog.com/