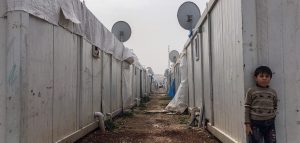 "I want the right of life, of the leopard at the spring, of the seed splitting open—I want the right of the first man." Nazim Hikmet, Turkish Poet, (1902-1963)
Ai Weiwei's Human Flow is as challenging to view as it is imperative to view. In two hours, the legendary artist/activist/filmmaker takes viewers to the Middle East, Afghanistan, Europe, Africa, and the United States. We see heart-breaking images, hear heart-breaking stories of migrants, and the horrors these 65.6 million face every day—many for decades, for whole lives, for generations.
Weiwei peppers this epic film with quotations and poems, as well as activists sharing their experience and perspectives. The cinematic craft—vision, sound, and music—is standard-bearing, awe-inspiring.
Human Flow is utterly stunning. I will be shocked if it does not win the Academy Award for Best Feature Documentary.
Instagram
(Photo courtesy of 'Human Flow')