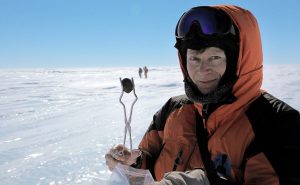 Directed by Werner Herzog and Clive Oppenheimer, Fireball: Visitors from Darker Worlds is seemingly all about rocks and dust that arrive from outer space—meteors, meteorites, micrometeorites, and asteroids. But, that is just the tip of the iceberg. The film addresses the human impacts of all these rocks settling down to Earth—from teeny tiny specks smaller than fleas to asteroid planet killers, and everything in-between.
Herzog wrote the film, provided his patented narration, and cinematography. Oppenheimer, a Professor of Volcanology at the University of Cambridge, is the host, interviewing a wide range of people. The film takes us around the world to Mexico, Australia, France, Maui, Hawaii, India, Russia, Antarctica, Mecca, Saudi Arabia, and a set of islands between Australia and New Guinea.
Although there are interviewees who speak about the science of stones from outer space, the film focuses on the stones' impacts on religion, culture, history, myths, and legends. The common denominator of the interviewees is the joy, passion, and awe they express about their work. Upon discovering what he considered to be a precious stone, one searcher broke down in tears and sobs.
Jesuit Brother Guy Consolmagno is emblematic of this spirit. He was a scientist before entering the Church, and now works at the Park of Castel Gandolfo, the summer residence of the Pope, as a 'planetary scientist', and directs the facility including its observatory. Seeing no contradictions, Brother Guy exuberantly celebrates both science and his chosen religion. Listening to him made me want to drop everything and become a planetary scientist, too.
Fireball: Visitors from Darker Worlds deserves any and all the awards and accolades it receives. It is instantly engaging and does not let go. On top of all the information the film provides, we view a cornucopia of fascinating images, and hear gorgeous original music by Ernst Reijseger. The film leaves viewers with much to ponder about our very existence and beingness on planet Earth.
Fireball: Visitors from Darker Worlds is an AppleTV+ film. It will be released November 13.
(Photo of Clive Oppenheimer and meteorite on Antarctica courtesy of AppleTV+)