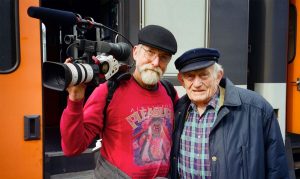 Co-directed by Gina Leibrecht and Les Blank, How to Smell a Rose is an hour spent with legendary filmmaker Richard Leacock. The primary focus is Leacock's biography, his thoughts and feelings about film and filmmaking, and his place in the history of documentary filmmaking. We are also treated to seeing his accomplished French cooking, and we spend time with the love of his life Valerie Lalonde.
I'm losing track of the number of documentary films I see which I would be happy to be two or three times their running time. Leacock's life was so rich and varied, one lived with the heart of an artist and brain of an engineer, I wanted much more of this film. But, this is not a kvetch, it is praise. Leacock's charm is irresistible.
Writer Leibrecht's film introduces a passionate and creative character to a much larger audience who will learn of the inestimable contributions Ricky Leacock has made to documentary filmmakers and filmmaking.
How to Smell a Rose is available from Les Blank Films.