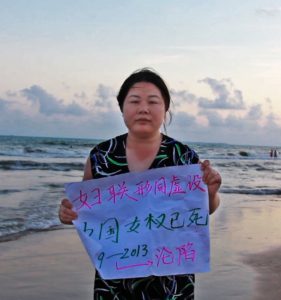 Shot guerilla-style, Hooligan Sparrow follows Chinese political activist Ye Haiyan as she confronts the institutionalization of rape in China—specifically loopholes that allow government workers to have consensual or nonconsensual sex with female minors with little to no consequence for the perpetrators. Haiyan's nom de plume is 'Hooligan Sparrow.'
Haiyan is fighting two fronts: prostitution and rape.
Prostitutes face many risks by virtue of working in the context of a pimp culture. One of Haiyan's acts of protest was to do sex work in a brothel setting without fee. The primary focus of the film, however, is on a specific case of rape: Two government workers kidnapped several young girls from school, right out of their seats, had sex with them over a period of two days, and then released them. The two workers faced no substantial consequences.
Using both hidden and unhidden cameras, filmmaker Nanfu Wang covered the story of Haiyan's mission of protest of this egregious lack of justice. With every move she makes, Haiyan becomes increasingly vulnerable to governmental surveillance and harassment. Inevitably, Wang, too, becomes a target. Although Wang had some of her footage confiscated and equipment destroyed, she managed to secure enough of her film to tell this harrowing story of a giant nation's shame.
I am sure many us who have seen Wang's film thought about a production company adapting the story for a mainstream film. If I was a mogul I'd greenlight it immediately. Hollywood and China, though, have become inextricably attached. The chances of this riveting story being widely available any other way then via Nanfu Wang's inspiring film are slim. It is on that basis that I urge you to see this film. Although this story is about institutional misogyny in China, it is also emblematic of misogyny's ubiquitous nature.
Hooligan Sparrow is distributed in North America by Kino Lorber.