"The worst place where I ever slept in was the bushes." Rudee, Age 6
Prolific documentary filmmaker Alexandra Pelosi and her crew are hanging out at a motel walking distance from Disneyland. They are observing and speaking with homeless children and their families who live in this semi-urban purgatory set in one of the wealthiest counties in the United States of America.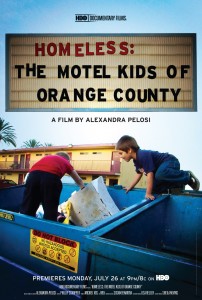 These are the 'working poor' who have barely enough support to stay off the streets, living week-to-week, not knowing what's going to happen next: The streets? A better place? Or…, here.
The children are not allowed to play at the motel. Some, if not most, avoid the local park because of gang activity. Living in one room, a family of 5 also has 4 dogs. One family a week is evicted – either for lack of payment or for causing some kind of trouble. When that happens the family's belongings are placed in the dumpster which, of course, is then perused for whatever material of value may be found. The police arrive frequently on domestic disturbance calls. For entertainment the children go to the top of a parking structure at night to see the beautiful fireworks culminating a day of rides and food at the Happiest Place on Earth.
There is a school just for these children. Supported by governmental and NGO agencies, the children find what little respite they may at Project Hope, but their teacher – as compassionate a person one could ever find – is, during the film's production, dismissed due to California education budget cuts. One school room serves three grade levels. Poor Rudee gets a severe stomach ache. There is no nurse. No family member or friend is available to take her home. She must wait until the 5 o'clock bus picks her up.
Pelosi's subtext here is not very sub. This is the world us Americans have created for ourselves. The implicit questions are: Is this what we want? If not, what do we do? The first step is to acknowledge this world, and that is exactly what Pelosi's straight-forward film does.
http://www.hbo.com/documentaries/homeless-the-motel-kids-of-orange-county