"No way to live in peace, not under Sadam, not after him."
A distinguished Iraqi gentleman as he views a collaterally destroyed home.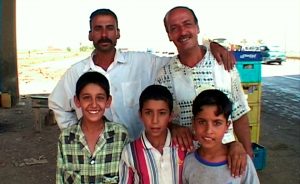 France-based Iraqi filmmaker Abbas Fahdel has single-handedly produced a monumental documentary film.
Homeland: Iraq Year Zero is his coverage of the Iraqi people before and after the 2003 bombing and invasion. The Kino Lorber version is a two-disc set—Before the Fall, and After the Battle, five and a-half hours of life at those times.
Fahdel's camera covers his extended family, friends, street scenes, markets, food kiosks, conversations about the minutiae of their lives, conversations about the war to come, and the war that came.
We see Iraqis watching television—seeing propaganda songs about Saddam Hussein, children's shows, and anti-war protests in other countries. They knew the protests were in vain. Fahdel's 12-year old nephew Haidar steals every scene, every shot in which he appears. He quickly becomes the embodiment of the film's story.
The Kino Lorber box set includes a booklet, Lessons of Darkness, by Robert Greene. Disc One includes an 'Extra' of Fahdel being interviewed. He speaks French, and his companion interprets in English. His presentation is as powerful as his film.