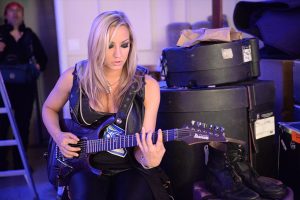 For documentary fans, comparisons of Fran Strine's Hired Gun and Morgan Neville's 'Twenty Feet from Stardom' are inevitable.
'Twenty Feet' covers female back-up vocalists in the studio and on tour. 'Gun' covers—with one exception—male musicians called 'side men' or 'session men' in the studio and on tour. (One female player, Eva Gardner, appears in the film.)
The two differences between the films are: 'Twenty Feet' achieved a substantial amount of publicity, and 'Gun,' not so much. Secondly, the musical genres covered in 'Twenty Feet' are R&B and rock, while the genre most covered in 'Gun' is heavy metal—with a soupçon of pop.
Caveat: Yours truly turned to progressive rock in the 1970s, while metal began its rapid growth in the same decade, sparked by Iron Butterfly's 'In the Garden of Eden.' Aside from making myself listen to samples of contemporary metal music—just so I can say I've done so—I have no relationship to that world. Well…, I did go wild over The Cult's 'Edie.' But, please don't tell anyone—and, anyway, the song is likely considered a metal antique.
Hired Gun features interviews of the 'best of the best' players as they speak of their lives as side men to superstar singers and super groups. Billy Joel appears in archival interviews, Pink appears in interview, and Alice Cooper was interviewed for the film. Other than those stars, the film features several players—guitarists, drummers, and singers speaking of their trials and triumphs.
There is plenty of music.
Despite my unfamiliarity with, and lack of appreciation for metal, I was as thoroughly engaged with and gratified by 'Gun' as I was by 'Twenty Feet.' The reason being is that filmmaker Strine has, with great aplomb, revealed fascinating characters, relationships, and many human stories—tragic and joyous.
Hired Gun is Strine's second documentary feature as director. His first was 'Dolly: Live in London O2 Arena'—a one-hour film of the singer's performance. I very much look forward to Strine's next film, and will see about finding that 'Dolly' film.
To expand my musical horizon, I have added Five Finger Death Punch to my long list of Pandora channels.
Hired Gun is available on Netflix.
(Pictured: Eva Gardner)
(Pictured: Eva Gardner)