Many documentaries shoot, of necessity, with low budgets, and in cinema vérité – a visual approach used now in countless film and television productions.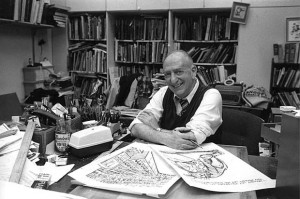 And some documentary films are carefully crafted. They may feature distinguished people speaking in distinguished settings with archival material presented in elegant manners. These films are produced with large budgets supporting the fine work of veteran filmmakers.
Herblock is one of these films. But, the look of the film, the quality of its production take a back seat to the vital substance it aims to impart.
Written, produced, and directed by accomplished documentarian Michael Stevens, and presented by HBO, Herblock is a reverential look at the life, times, and character of editorial cartoonist Herbert Block – 'Herblock' being a kind of nom de plume he used in each of his cartoons – who drew and wrote for The Washington Post for most of his professional career.
Although I know virtually nothing about the world of editorial cartoons and their creators; and although my exposure to the cartoons has become quite restricted by the shift to electronic displays and away from print media, Stevens' film has reminded me of what I'm missing, and informed me of the most prolific and influential editorial cartoonist of the twentieth century.
Stevens interviews legendary and contemporary icons of American journalism and broadcasting, historians, editors, publishers, satirists – and a few who knew Block personally. They speak as much about the art and function of editorial cartoons as they do of the man himself.
Stevens' takes us on a journey through the last seven decades of the twentieth century and Herbert Block's views of our nation, its people, and, especially, our leaders. Stevens paints a picture of a quietly powerful humanitarian whose life and work deserve all the accolades and attention American society can muster.
As I say repeatedly, I don't review a film unless I support the film, unless I can recommend it. I passionately recommend this one.