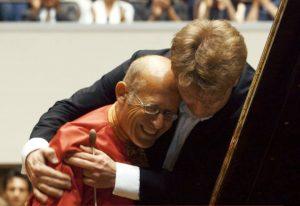 In 1996, writer/director Scott Hicks gave us "Shine" about the storied Australian concert pianist David Helfgott, portrayed by Geoffrey Rush.
In 2015, Cosima Lange gave us, Hello, I Am David!—a documentary about Mr. Helfgott who continues touring to this day.
For those unfamiliar: Helfgott was on a fast-track to concert stardom when he had an emotional breakdown which led to eleven years of institutionalization. Hicks' film focuses on the troubled relationship between father and son that appears to be the root of Helfgott's struggles.
Lange's documentary follows the maestro on a European tour. She presents clips of his performances, interviews with admirers—especially, with Helfgott's wife, Gillian, who became something akin to a savior.
Helfgott is a one-in-a-billion phenomenon. He appears to be deeply disturbed, yet plays piano with high skill. He presents with ADHD—attention deficit hyperactivity syndrome—despite his late 60s/low 70s age. He speaks and moves compulsively, ignores personal physical boundaries—he touches and/or hugs virtually everyone he meets—and appears to be a bit of a kleptomaniac.
David Helfgott is also a kind, loving, gentle, caring human being who talks and mumbles whilst playing masterly piano for thousands of people around the world. Normally what would be considered a performance sin has become an endearing aspect of his music.
Available on Netflix, Hello, I Am David! is a spectacular film about an unforgettable character.