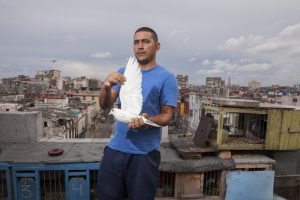 Directed by Pedro Ruiz, Havana, From On High is a cinematic, poetic, and unofficial sociological study of Cuba in transition. Eleven Cubans are interviewed and followed speaking about their lives as well as their thoughts about Cuba with references to the Revolution, Fidel, Che, the United States, and, of course, Trump. One interviewee expresses himself in poetry.
They live above the streets. Housing is sparse, and this section of Havana has buildings with elevated rooms of various ilk you can inhabit. Most have lived there for many years. The impoverished conditions are mitigated by the beautiful cityscapes and skies that surround them. Animals, too, are featured. One Cuban has been raising pigeons for decades. At least one has chickens—and dogs appear throughout the film.
Havana, From On High is superbly produced with striking visuals, fascinating people and stories. By film's end I was stunned by the visions and, especially, by the people making the most of their challenging conditions.
A production of Faits Divers Média, Havana, From On High is an official selection of more than two dozen film festivals, and won the Grand Prize, Best Feature Documentary at the Rhode Island International Film Festival.
Director Ruiz has been nominated for 2020 BEST CINEMATOGRAPHY IN A FEATURE LENGTH DOCUMENTARY, by the Academy of Canadian Cinema and Television.