Harper Lee: From Mockingbird to Watchman is Mary McDonagh Murphy's follow-up to her Hey, Boo: Harper Lee and 'To Kill a Mockingbird'.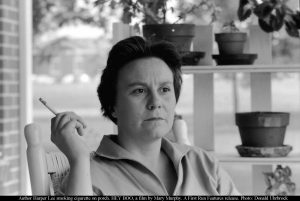 This documentary was apparently catalyzed by the surprise discovery and publication of Lee's lost manuscript entitled Go Set a Watchman which was written before Mockingbird, and which describes events and characters many years after those of Mockingbird.
I've not read the 'new' book. I learned about 'Watchman' via a flurry of headlines about its publication—and, especially, about fans' disappointment that Mockingbird's hero, Atticus Finch, is presented as a racist. There were also accusations of fraud—Lee didn't write the book. (To write my review of this film I did what is now the obvious and commonplace: I consulted Wikipedia. This entry presents context regarding the Finch controversy.)
Murphy's film reviews the success and impact of Mockingbird—book and film—and presents more information about Lee. She follows this with the story of Watchman's discovery and publication. Murphy also explores further the relationship between Lee and Truman Capote.
The film includes interviews with Tom Brokaw, Oprah Winfrey, Lee's current literary agent, and several writers. The scene stealer is Lee's sister Alice Lee who died in 2014, at the age of 103.
Harper Lee: From Mockingbird to Watchman provides more information, more context to Harper Lee's life and works. She does not address the 'Atticus-is-a-racist' controversy which is why I've provided the Wikipedia link. She does, however, take the 'Lee-didn't-write-this-book' controversy head-on. I'm convinced. She wrote the book.
Confession: I'm always hesitant to reveal this kind of information. Some of Murphy's interviewees brought me to tears as they spoke with such deep admiration and love for To Kill a Mockingbird. With her two documentaries Murphy has highlighted the rightful place the book and its author have in the still-ongoing history of the American civil rights movement.
The First Run Feature's DVD includes special features one of which is a 'Coda'—more contemporary coverage of Harper Lee. This is not the first time I've seen a special feature that isn't 'special.' That is, it belongs in the film. So, please don't skip it.