What more can you ask of a movie?! A true love that shone more than five decades, Hollywood insiders talking about inside Hollywood, and behind-the-scenes images of movie making—Big Time movie making, that is—all lovingly crafted.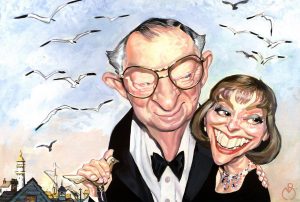 Daniel and Jennifer Raim's Harold and Lillian: A Hollywood Love Story tells the stories of Lillian and Harold Michelson—their respective professional biographies, and, especially, their love story. The two love birds tell their stories, and we hear from many admiring filmmakers including Mel Brooks, Danny DeVito, and Francis Ford Coppola.
Lillian worked as a researcher providing images and information to filmmakers in support of all aspects of production design. Harold drew storyboards, and did production design near career's end. Together the lovers contributed to hundreds of Hollywood films many of which became instant classics. Their services were in demand—out of respect and admiration the King and Queen characters in Shrek were named Harold and Lillian.
Lillian had the tenacity, raw talent, and southern charm to meet virtually every demand made of her by filmmakers. She was quite disappointed, though, when Harold disallowed her to get on a drug lord's private jet to go to South America in order to capture images of a drug lord's digs. She relented on the idea when Harold reminded her she has three children. Lillian had to deal with the chaos of Hollywood business—moving her ever-growing research library several times. It seems the high point occurred when the library was at Coppola's southern California Zoetrope studio. Lillian is a living legend. The Lillian Michelson Research Library is currently located at the Art Directors Guild, in Studio City, California.
Harold was born with an artist's genes. His love and work came together with drawings, cards, notes, poems and collages he frequently made for Lillian. This film is an expression of love in many ways, and the expression that most touched me was this large custom hardbound book Lillian shares. It contains a lifetime of Harold's loving verbal and visual expressions of affection.
Another affectionate touch in this love story are the original images by Patrick Mate, drawn in Harold's storyboard style, of scenes from the lives of Lillian and Harold.
A Zeitgeist Films release, Harold and Lillian: A Hollywood Love Story is a rare film about an even rarer love.
See the film's website for information about screenings.