It's not my issue. Hunger. My issue is human over-population. Solve that one – humanely – and a gazillion other human and environmental maladies get solved with it.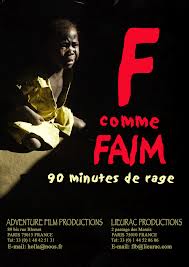 But there I was, in a studio, at some pubic access-type television building, in downtown Santa Cruz, California, seeing what is probably the most powerful single cinematic statement on hunger in the history of humankind. Written and directed by Neil Hollander, performed by someone I'd never heard of, Henry Rollins, with writing contributed by Regine Michel, Julian Phelan, and Henry Rollins. Hollander was with us.
H for Hunger is a 90 minute monologue brilliantly performed by Rollins. With images from the worlds of hunger, starvation, eating, engorging, politics, history and farming in the background and foreground, Rollins performs the film's script as the voice of a starving person who, otherwise, would not be able to speak. Outrage is the operative word here, and the risk Hollander takes is to make his statement monotonous – uninterrupted anger, outrage, and disgust.
I found myself deeply impressed by the number and variety of issues around world hunger Hollander covers; and, as previously stated, awestruck at Rollins' performance.
I can understand anyone not wanting to expose themselves to this shotgun documentary. If you have a beating heart, chances are you'll feel pummeled. Although I walked out of the studio feeling beat-up, I was grateful to have seen the movie. And whether or not anyone wants to expose themselves to this nonstop horror show, Neil Hollander's H for Hunger deserves to be seen. Fact of the matter is our world is a non-stop horror show.
Coda: After the viewing the film I noticed more than one person addressing Hollander, kvetching that his film doesn't tell the viewer what to do about hunger. First, that's not entirely true – for Hollander places the dots very close to each other, they're easy to connect. More importantly, though, to wonder what one is supposed to do about world hunger after seeing this movie signals the viewer as having received Hollander's statement, but still self-protected by layers defensiveness to simply getting this horrific reality, to getting we're all responsible, and to getting that this responsibility includes using our own mental, physical, and spiritual resources to answer the question of 'What-to-do?' ourselves.
H for Hunger is available for streaming from a variety of online services.