What a fascinating, intriguing, inspiring character Guy Martin is! He became a master chef at a young age, has maintained his 'rank' for many years at France's Le Grand Véfour, hosts tastings for children at that legendary restaurant to introduce them to fine cuisine, and in spite of all that, he must be somewhat somber at the moment—April, 2011.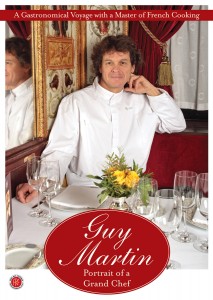 The earthquake, tsunami, and nuclear disaster in Japan are haunting him every day. Martin's been travelling there several times a year to visit Zen gardens, consult with a restaurant in Osaka, and enrich himself in the sensuality and minimalism of Japanese culture. His Japanese associates respect him so much that they published a detailed biography.
At 57 minutes, Lionel Boisseau's 2008 First Run Features release, Guy Martin: Portrait of a Grand Chef, doesn't have enough time to provide the quantity of detail typically found in a book. Instead we see and hear our hero at work (in France and Japan), at leisure, reflecting on his life and culinary artistry. And, especially, we see his creations, dishes that beckon the viewer to ravish these gastronomic masterpieces. What the film lacks in published-book quantity, it makes for in terms of information efficiency and visual ecstasy.
Thanks to Martin's story as told by himself in the film, as well as a narrator supplementing his information, we get a comprehensive outline of Martin's life. But it is his character, his philosophy, his artist's nature that is paramount in this profile.
Martin wanted to be a painter. Color is paramount in his aesthetic sense, it drives his culinary creations. One of his closest friends is multi-talented artist Martine Martine; the two dialog about the nature of their respective arts forms. Martin shares how his recipes seem to come to him in a gestalt, all at once—much like a sculpture, painter, or musician may receive their work in a single moment of inspiration.
To state the obvious, it's best to view this film right before your next meal.
http://firstrunfeatures.com/guymartindvd.html