With Growing Cities, Director Dan Susman and cinematographer Andrew Monbouquette take us on a tour of urban farms in the United States, meeting their creators, and, of course, promoting much-needed urban farming.
Beginning with the apparently and ironically urban-farmless Omaha, Nebraska, we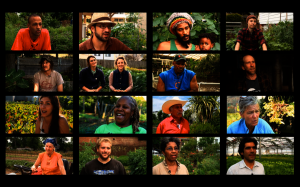 visit New York and San Francisco, and many cities inbetween.
The duo's upbeat and light-hearted approach – along with their excellent cinematography, good sound, and great music – make the journey totally enjoyable and inspiring.
The First Run Features DVD includes special features as well as optional English or Spanish subtitles. Subtitles, especially in documentary films, are always appreciated by yours truly – and are crucial for hearing impaired viewers.
The film's website includes references to anything and everything we need to become urban farmers.
http://www.growingcitiesmovie.com/