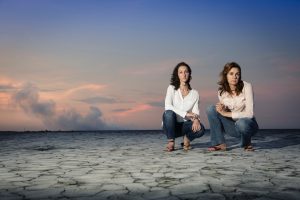 "When everything is destroyed, you can't put a price tag on the history, the family, and the land that is gone."
In 2006, PT Lapindo Brantas, an Indonesian oil and gas company, was drilling in the sub-district of Porong, Sidoarjo, in East Java, Indonesia. There was a giant explosion of mud.
The non-stop eruption of mud continues to this day, and is expected to continue until at least 2030. Much of the mud is being channeled to a river. Lapindo claims the eruption was caused by natural phenomena, the people believe it was caused by a demonstrable drilling error. Sixteen villages and thousands of homes were covered in mud.
Directed by Cynthia Wade and Sasha Friedlander, GRIT tells the story of the explosion and ongoing mud flow with a focus on its impact on the 60,000 people who were displaced. Aside from the devastation itself, a crucial issue the people struggled with is compensation for their losses. It took ten years for people to receive a measure of compensation, but only those who could provide evidence of land ownership received those funds.
The images of explosions and eruptions are fascinating, of course, but it is the human loss of homes and community that forms this tragedy. Miraculously, only 16 people were lost in this disaster.
Friedlander and Wade cover this human loss and the struggle for any acknowledgement from Lapindo that their drilling caused the disaster. The filmmakers follow Lapindo's responses to the disaster and the socio-political fight for restitution, leading up to a Trump v. Biden-style Presidential election.
GRIT is well crafted, and thoroughly engaging. The film has garnered at least 14 film festival awards and received an EMMY nomination.
You may find the film via these links:
PBS / POV
_____________________________________________________
(Pictured: Filmmakers Sasha Friedlander and Cynthia Wade standing on an endless sea of dried mud)