So I asked Celia, does 'nostalgia' mean you long for a previous time and place in your own life, or can you be nostalgic for a time and place you did not inhabit. After our discussion I did the obvious: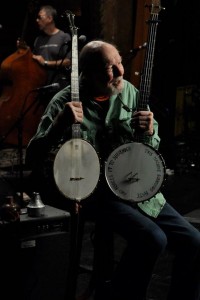 nostalgia: a wistful desire to return in thought or in fact to a former time in one's life, to one's home or homeland, or to one's family and friends; a sentimental yearning for the happiness of a former place or time: a nostalgia for his college days.
The emphasis in this definition is on our experienced lives. However, Greenwich Village: Music that Defined a Generation, Laura Archibald's exploration of New York's Greenwich Village in the late fifties and early sixties, gave me a serious case of nostalgia for that time of nascent political activism and a closely-related resurgence of folk music which quickly saturated our national culture and birthed legendary singer/songwriters.
Narration is provided by Susan Sarandon reading selections from Suze Rotolo's A Freewheelin' Time: A Memoir of Greenwich Village in the Sixties. In the film's too-short 90 minutes we are treated to stories and interviews of a cornucopia of figures behind the scenes and on stage.
Archibald's film evoked a deep longing to go back to that time and place of exploding passions and creativity, births of superstars, and a strong sense of community. You'll recognize most of the names, and be introduced to a few new ones.
The most astounding performance I saw was an antiwar song performed by the duet of Buffy Sainte-Marie and Andy Williams—the very definition of 'unlikely friends.'
If only I could have been 22, and living in the Village, instead of being 12, living in Fort Lauderdale, and listening to songs about very small yellow bikinis and purple people eaters.