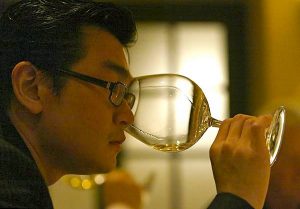 Directed by Reuben Atlas and Jerry Rothwell, $our Grapes tells the story of a massive heist in the American wine industry—the sale, at auctions, of phony rare bottles of wines.
The perpetrator was Rudy Kurniawan, a charming young man of Chinese descent, based in Indonesia, and living in the United States.
Early in the film we learn Kurniawan has a great 'palate'—he knows wine—and ingratiated himself into the world of fine wines and wealthy people. He partnered with John Kapon who had inherited his parents' Manhattan-based business, Acker Merrall and Condit, the first formal wine shop in the United States.
Kurniawin supplied both real and fake bottles of wine, and Kapon auctioned them off to the unsuspecting. Between 2003 and 2006 John Kapon sold more than $35 million of wine from Kuniawin's 'cellar.' For a period of time Acker Merrall and Condit became the number one wine auction house in the world.
Even after Kurniawin's malfeasance had become well-known, Christie's Auction House got in bed with him—a testament to his boyish charm and power.
Two very different gentlemen discovered the con, and each went about busting it.
Laurent Ponsot is a Burgundy winemaker, and Bill Koch, a very, very wealthy man deeply devoted to the consumption of wine, and the curating of 43,000 unopened bottles in his jaw-breakingly gorgeous cellar. Koch estimates that he spent $4 million on 400 fake bottles. Koch is brother to his two infamous brothers, Charles and David.
Ponsot initiated and carried out his own one-man investigation—both on principle and because his wines were being forged. He took several trips between France and the United States. Koch hired a top-of-the-line investigator who, in turn, hired a staff of investigators.
Rudy Kurnianwin is serving a ten-year sentence in a federal penitentiary.
Others, though, have taken up the slack. It is estimated there may be as many as 10,000 forged wine bottles still in private collections.
$our Grapes is distributed by Netflix.