The covering of the Church of Scientology in documentary film could not have been given to a better director than legendary filmmaker Alex Gibney.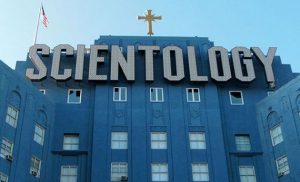 Based on Lawrence Wright's book, Going Clear: Scientology, Hollywood, and the Prison of Belief, the documentary features eight former Scientologists speaking frankly about their dramatic experiences in this international 3 billion dollar net worth organization, and revealing information about its less-than-compassionate functions. We learn about founder L. Ron Hubbard's life story as well as the ascent to power of the Church's current leader, David Miscavige. And, yes, we learn about John Travolta's and Tom Cruise's involvements with the Church.
At film's end, in addition to repairing my dropped jaw, I was left with questions. How will the United States federal government respond to this film? Specifically, will the IRS allow the organization to keep its tax exempt status as a 'church'? If disallowed what will happen to the Church's assets? Will any of the Church's leadership be investigated for criminal activity? How will Cruise and Travolta respond to the many revelations? And how will the Church respond? This film deserves – if not demands – a sequel.
http://www.hbo.com/#/documentaries/going-clear