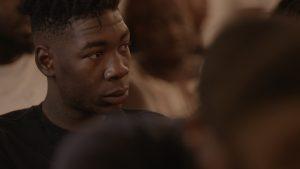 In the calendar year 2017, the City of East Saint Louis, Illinois had the highest murder rate in the world.
In Give Us This Day veteran filmmakers Jeff Zimbalist and Michael Zimbalist follow three of the city's police officers and three of the city's young people for a year. The filmmakers paint a montage of violence, of loss, and of those who struggle to change their personal and community's circumstances.
The point the film makes is both simple and confounding: poverty is the ground of violence. The exacerbated homicide rate in East Saint Louis is also related to the city's chronic deficiency of police officers which, in turn, is one of many symptoms of an impoverished community.
The film's impact is equally heart-breaking and inspiring.
Give Us This Day is an ATT Original Documentary. It premiers on November 8, at 10 PM ET and PT, on DIRECTV NOW and DIRECTV channel 239, and is distributed by All Rise Films.