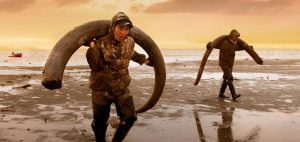 Producer/director/editor Christian Frie, and co-director/cinematographer Maxim Arbugaev have given our world a masterpiece of documentary filmmaking.
Genesis 2.0 introduces three stories.
1) Groups of men who scour the remote, uninhabited New Siberian Islands for wooly mammoth (mammuthus primigenius) tusks for commercial purposes, and, as an aside, for mammoth remains that may contain living cells. Arbugaev films and narrates this portion of the film. The men's story is woven throughout the film.
2) Russian and South Korean scientists working to clone a mammoth.
3) A new-to-me approach to the use of genetic information—'genetically engineered machines' (also known as 'synthetic biology') refers to the use of genetic technology to create machines of various ilk. Frie attends the 2016 International Genetically Engineered Machine Competition put on by iGEM.
The competition was first held in 2014. One team in the competition provided a promising 'machine'—a biological camera that worked. The picture it took displayed the portentous—and for some, ominous—words 'HELLO WORLD.' That accomplishment sparked the community of young people working in this area. The numbers participating in the competition have snowballed.
Frie also visits scientists working on 'gene sequencing.' One interviewee at the China National GeneBank wants to sequence the world.
Music by Max Richterand and Edward Artemyev haunts the film and its viewers.
The film has received at least 20 film festival awards.
Available on Amazon, Genesis 2.0 left me gratified having seen a superlative documentary film, and wondering: What are all these giant, not so giant biotech companies, and CRISPR users around the world producing?