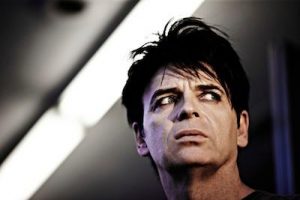 In Gary Numan: Android in La La Land filmmakers Steve Read and Rob Alexander follow the 1970s British pop star into and through a midlife renaissance of his professional career. The attempt to revive a music career is inherently risky—highly risky—and, therefore, fears and dread are inevitable. Through interview, Alexander and Read capture those feelings. They also provide a profile of the prolific artist and his family, as well as an outline of Numan's professional career.
The film was shot in 2012-13. Gary Numan, wife Gemma, and their three daughters are moving from their British homeland for the first time. They plan to install this renaissance in Los Angeles. There is much more than risk here—feelings of separation and loss also dominate this familial quantum leap. The personal stakes are enormous, and the film pulls its viewers into the drama of this gamble.
Given Numan's robotic image established in the late 1970s, and given the man we see and hear in this film, the subtitle word, 'android,' is an anachronism. Decades of life have melted the musical Pinocchio into a human being. The words and music in Numan's 2013 renaissance release, Splinter, reveal an emotionally accessible human being.
Gary Numan: Android in La La Land is a First Run Features release.