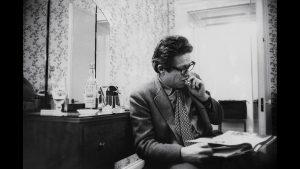 The prime virtue of documentary films is the revealing of stories, events, images, and people which otherwise would be challenging or impossible to find. There are virtually no limits to the subjects or topics documentaries may explore.
For instance, street photography—an alive, vital medium of art which has become even more obscured by the ubiquity of cameras. That is, everyone is a street photographer. Only a minute few are celebrated artists.
Sasha Waters Freyer's Garry Winogrand: All Things Are Photographable covers one of these minute few. Born in 1928, and passed in 1984, Garry Winogrand covered New York city primarily, with detours to Texas and California. He was a massively prolific artist, leaving canisters of undeveloped film, or unprocessed negatives.
Freyer tells Winogrand's rich personal story, and provides a dizzying montage of images throughout her film. Viewers watching on home video will find themselves pausing frequently to study and admire his work.
Garry Winogrand: All Things Are Photographable is a captivating, well-lauded film that inspires its viewers to explore the art of street photography—and, perhaps, see what they can do with their camera.
To learn how to view the film, stay in touch with its website, send a query via the CONTACT link.