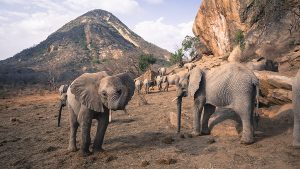 Produced, directed, shot, and edited by Austin Peck and Annaliese Vandenberg, Gardeners of Eden is another look at our slaughter of elephants in the wild. The emphasis, though, is on initiatives to save wild elephants and end the slaughter.
The film reports that out of a population of 3.5 million, 300,000 wild elephants remain—and their survival is in question. The total elimination of wild elephants is still a tragic possibility.
Of course, information about and images of the killing of elephants are horrendous—yet it is critical that those images be captured and seen by as many of us humans as possible. But, in this film those images are kept to a minimum. In their place are images and stories of human beings fighting against poachers and for elephants—and other wild species. We see wounded elephants receiving treatment, orphaned elephants being cared for, and learn that those survivors are being successfully released back into the wild. Some of the females bring their babies back to the rehabilitation center for reasons we may only speculate about.
Gardeners of Eden is currently available on Netflix. By the way, the film's world premier took place at the Mill Valley Film Festival, right on my own backyard.