Directed, edited, and shot by Nicola Bellucci, In the Garden of Sounds tells the story and demonstrates the work of music and sound therapist Wolfgang Fasser who became blind at an early age.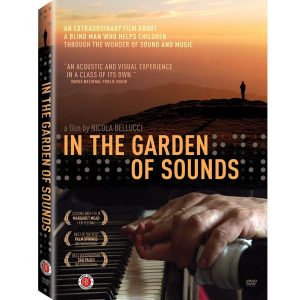 Fasser's initial professional work was as a traditional psychotherapist. In a crisis of conscience he took a radical departure choosing, instead, to use his experience and understanding of sound and music in service to developmentally challenged children – including those with severe brain damage.
Bellucci's camera and microphone follow Fasser in his professional work with children and in his personal life. His work with children is inspiring and heart-wrenching.
Fasser is that rare individual with the ability and, especially, the courage to connect with children, allowing them to take the lead in their own healing and growth. Away from his studio Fasser is alone, in the countryside, listening to and recording sounds, enjoying the company of his canine companion. We also follow Fasser in his walks through town and in conversation with townsfolk many of whom ask him for his help with their health challenges. And we spend some time with a music group with whom he performs.
Bellucci's images and sounds are of high quality, beatific and clear. The character he's captured reminds us of the kind of giving, caring person we can be if only we chose.
The First Run Feature's DVD includes: "Travels with Wolfgang", Bellucci's biography, and a comprehensive Resource Guide for parents and teachers.
The 90-minute film is in color, the dialog is in Italian and German with English subtitles.
http://firstrunfeatures.com/inthegardenofsoundsdvd.html