Directed by Philip Jones, produced and edited by Ryan Paul, Gaming in Color introduces and explores the fast-growing community of LGBTQ players and developers of video games.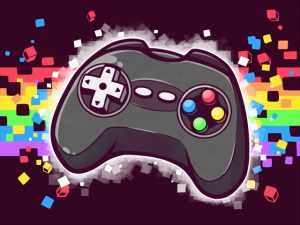 Shot in part at the GamerX convention in San Francisco, the film features interviews with seven community members speaking about the challenges and opportunities they've faced being part of each of the two communities—gaming and LGBTQ. They paint a picture of a rapidly changing gaming community, as well as the virtues of the amalgamation of their seemingly two diverse identities in one community.
The film's VOD launch is on May 19th. As you will see in the film's site, it will be available on iTunes, Amazon, Google Play, PlayStation, XBox, and Vudu.
Note: When viewing, keep your finger on your keyboard or pointer. There are several points during the film when a text box appears on screen while an interviewee is speaking. You may want to pause the film in order to read the text in the box, and then to hear all the person speaking has to say.
http://gamingincolor.vhx.tv/
http://www.devolverdigital.com/films/view/gaming-in-color