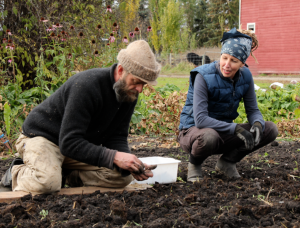 "Overall, I would rather characterize farming as a constant play between hope and despair. And in the despair, we have to be able to step away for a minute and see that it has shown you something that can give you hope."
Terry Mierau
Opera singers Monique Scholte and Terry Mierau met in Amsterdam. They coupled virtually immediately. Somehow, they ended up in Canada, as farmers.
Terry, Monique and their three children live in a house barn in the traditional single-street village of Neugberthal, in Southern Manitoba. The family practices 'natural systems agriculture' as described by the Land Institute. The family is part of a community of Mennonites in their region which also influences their approaches to food and farming. Rather than participate in large scale farming, the family shares their vegetables and meats via 'direct to market farming.' They know their customers.
In From Seed to Seed filmmaker Katharina Stieffenhofer spends a year on the farm with this passionate, dedicated family. She also visits other farms and farmers in their region. The farmers speak of their thoughts about and struggles with the issues of genetic manipulation and organic versus 'conventional'—i.e. chemical—farming.
Activist Dr. Vandana Shiva, and climate scientist Dr. Ian Mauro address issues related to farming in a changing climate. Interviewees talk about the growing preference for organic food and how this pushes the momentum toward 'ecological agriculture.'
The film's story affirms Terry's quote above. There are unprecedented, devastating storms the year of shooting. Human generated global warming is a permanent visitor, and the family is making adjustments to their farming strategies to accommodate this unwelcome visitor. One adjustment is the need to find 'off farm' work—not their ideal way of being farmers.
Despite the existential challenges they face, this farming family is delightful and inspiring—as is the film which highlights their lives and their work.
"When I see farmers on the landscape, whoever they are, wherever they come from, whatever practice they are employing, they are heroes to me. The range of skills that farmers have, and that is required to actively farm, and be a farmer, it's absolutely inspiring."
Dr. Ian Mauro, Associate Professor, Department of Geography, University of Winnipeg, Prairie Climate Centre
From Seed to Seed has won nine film festival awards, and is distributed by Bullfrog Films.
You may book the film under 'Special Title Request' HERE.