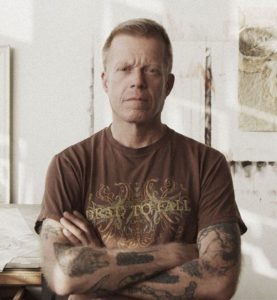 If you're an extremely talented, massively prolific, and commercially successful artist like Derek Hess, you want your documentarian to do justice to yourself and your work—to mirror the passion and dedication and authenticity you bring to your work, and consequently, to those who view it.
That's just what director/editor Nick Cavalier has done for Cleveland-based Hess with his film, Forced Perspective.
Of necessity there are two convergent foci to Cavalier's film: Hess and the personal demons that propel his work, and that make his work connect deeply with his viewers. Consequently, the words 'depression' and 'bipolar' are heard throughout the film. The psychologist in me is immediately triggered, yet I know better than to pursue the psychological issues proffered in the film, than to entertain reductionist thoughts. You, the lucky viewer, can and will do your own analysis.
Instead, I find myself in awe of, and admiration for Hess's talent and dedication, and for the countless numbers of people his work and story have profoundly impacted.
Music is another of the film's virtues that struck me. Cavalier and his producers employed the work of five composers to produce a soundtrack that perfectly reflects the depth and power of Hess's art.
Speaking of which, Hess is not just prolific in numbers, he is prolific in media. Hess has produced concert flyers and posters, t-shirts, multi-media pieces that incorporate used 8-track cassette cases, CD cases, fine art, and human skin. His fans take prints of his work to the tattoo parlor, and the resident artist burns the piece, or pieces.
There is much more to learn about Derek Hess. I highly recommend you see Cavalier's portrait of this passionate and inspiring artist to garner that much more for yourself.
Forced Perspective is a Kino Lorber release.