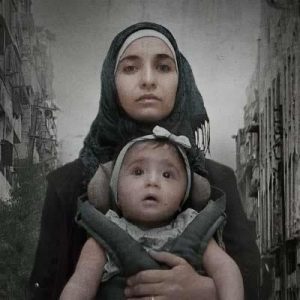 For Sama is director Waad al-Kateab's five years of experience living through war in the Syrian city of Aleppo. Her documentary is 'a love letter' to her daughter, Sama, who was born into violence and chaos. Journalist al-Kateab filmed throughout the five years, and narrates the documentary. "Sama," she voices in her love letter, "I've made this film for you. I need you to understand what we were fighting for."
The Syrian Civil War is one of seemingly countless struggles in the Middle East. Although al-Kateab provides a few basic points about the forces generating this civil war, her focus is on her family's experience of living under siege—in this case 'siege' is code for bombings.
As these bombings begin and continue, we see people of Aleppo exude a spirit of hope and determination, and then that spirit is dissipated in the relentless bombings—the injuries, the traumas, the deaths, the destruction. At film's end we follow the family through their harrowing ride from Syria to freedom.
The bombings and strife are, of course, horrible. al-Kateab's story-telling and resolute filming are nothing less than awe inspiring.
For Sama has won at least 35 festival awards, and is one of five feature documentary films nominated for a 2019 Oscar.
Nainita Desai also deserves accolades for her subdued yet haunting soundtrack. You may hear the entire soundtrack by scrolling to the bottom of the homepage and clicking on its link.
The film has generated a movement called Action for Sama, a campaign to end the targeting of health care facilities in Syria. al-Kateab has submitted her archive of film, photographs, and documents as evidence of war crimes.
For Sama is the most striking, searing documentary I have viewed to date. I am grateful to have found the film, grateful that it was produced, and, especially, that it is receiving the recognition it truly deserves.