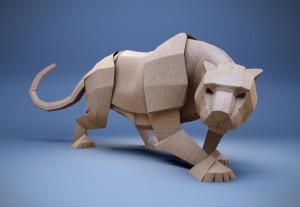 Vanessa Gould's documentary Between the Folds is an exquisite work of art about exquisite works of art—and their creators.
Gould interviews 16 origami artists, and at least one paper maker, presenting their completed works as well as works in progress.
Although less than an hour long, Gould, who also narrates, has filled this brief time with a tremendous amount of information about contemporary origami, its many facets and applications. For those who view origami as nothing more than a few kits and books one can buy for kids at an adventure, toy, or novelty store, this film is revelatory.
The artists are bright, genius, eyes sparkling with enthusiasm and joy, their words filled with clarity and wisdom, their works mystifying.
We learn origami is as serious, meaningful and multidimensional a visual medium as any other. In addition to its intrinsic aesthetic value, origami is being used by scientists, researchers, and academicians to catalyze and fertilize scientific and applied research as well as engineering projects. It has become an educational tool for children learning mathematics and geometry. For some, even the making of paper for folding is a craft, if not an art. Origami—as art and science—is evolving, differentiating into schools.
We also learn of Akira Yoshizawa (1911-2005), the 'father' of contemporary origami. He was self-taught, and abandoned his factory job to devote his life to the art of paper folding. Supporting himself with odd jobs, Yoshizawa created over 50,000 pieces, never selling even one. His wish was simple and clear, to see origami recognized as art. His wish has been fulfilled.
The look and sound of Between the Folds is thoroughly professional. Gould honors the art and its artists. She could not have achieved the film's perfection of style and substance without the excellent craftsmanship of editor Kristi Barlow. Gil Talmi, a prolific composer, provides music that perfectly adorns the images and stories. If the soundtrack was available, I would happily purchase the CD or download. The DVD includes several 'Outtakes' as well as a short film, Origametria about the use of origami to teach geometry to school children in Israel.
P.S. The film's website contains links to several artist websites with images of their creations.