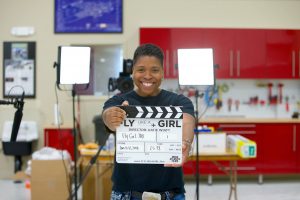 Yours truly flew Cessna 150s and 172s out of Atlanta's Fulton County Airport for four years in the 1960s. So, naturally, I must cover this much-needed documentary about women in aeronautics and space.
It was well worth it.
Katie McEntire Wiatt's Fly Like a Girl opens with Afton Kinkade, a girl about 13 years of age, feeding and caring for her beloved chickens, and speaking about the three things she loves—the aforementioned chickens, Legos, and flying.
Kinkade is one of 13 women in the film speaking about their lives, challenges, hopes, and aspirations in aviation and space flight. Naturally, the women refer to the biases that have been keeping them away from aviation for generations. Yet, the film also mentions a few women from the earliest days who were aviation pioneers. It seems that when the planes got bigger, the women got elbowed out of the aviation world. The men wanted their glory, power, prestige, and, of course, money.
All 13 of Wiatt's interviewees provide compelling stories about their lives as aviators and astronauts, and we get a few tastes of the iconic aerobatics competitor Patty Wagstaff twisting her plane in the air. The women's message now is 'we are here, and our numbers are growing.'
Women in Aviation and the International Society of Women Airline Pilots provide institutional support in championing the many roles women can, do, and should play in aviation and space flight. Women in Aviation also includes an annual 'Girls in Aviation Day' for girls 8 to 17.
Fly Like a Girl is a finely crafted, delightful, and compelling documentary that deserves a giant audience. It is available in theaters and on-demand—including the iTunes Store—starting October 9.
The film is produced by Indie Atlantic Films, and Distributed by Gravitas Ventures.
BTW: A new-to-me phrase, STEM, can be heard throughout the film. In case it is also new to you, it is an acronym for 'science, technology, engineering and math.'
(Pictured: Vernice Armour, America's First African American Female Combat Pilot)